eco-options for our "nearlyweds"
As caterers, our first job is to provide great food and superior service to our clients. Meeting this mission also means being responsible for all our actions — not just in the kitchen or in a barn or ballroom filled with your family and closest friends. It means taking ownership of what we create as well as what we leave behind.
Our from-the-ground-up approach to the food we offer started with some fabulous farm-to-table dinners, the creation of a kitchen garden at our commissary, sourcing produce from local farms, and the production of our own cured meats, breads, edible party favors, wedding cakes and more – all made without preservatives. Now, thanks to Julia and Esther at Waterloo Village, and thanks to Jeffrey Miller, we're even making our own goat cheese!
Today, what's left at the end of the night, is sent on to shelters for the homeless when possible, or recycled and readied for compost.  Many clients share our motivation for protecting our planet and our people, and many more are asking about ways they can green up their wedding while still making it the best day ever. Be assured, your children will thank you. So, read on and remember to do as Mom said and eat your greens!
Wedding Jewelry – from engagement to ceremony to forever
Other than each other, there are two things from your wedding that you will have forever: your photographs and your wedding rings.  When thinking of sustainable jewelry, a term that often comes to mind is "conflict free".  Asking your jeweler whether a diamond or stone is "conflict free" is great to do, although, it is often hard to know whether a stone is actually traceable.  Rather than asking if a gem is conflict free, ask your jeweler the source.  Mining is often catastrophic for both native communities and the environment.  Each year, more than 150 million carats of diamonds are extracted from the earth resulting in the removal and displacement of enormous amounts of soil. These mining efforts create irreversible damage to ecosystems.  Eager to do your part but don't know where to start? We have some great local suggestions for jewelers who know exactly where their gems are mined and ensure that stones can be traced back to mines that share their commitment to environmental responsibility, fairness and human rights.
Look for recycled metals – labels that certify that gold is from responsible artisan and small-scale mining organizations that support social development and environmental protection.  The manufacture of an average gold ring creates more than 20 tons of mining waste so, consider using reclaimed metal.  Fairmined is an assurance label that certifies gold sourced from artisans and small-scale mining organizations who meet world leading standards for responsible practices.  Fairmined metal further aims to advocate for the 100 million people who depend on mining to make a living.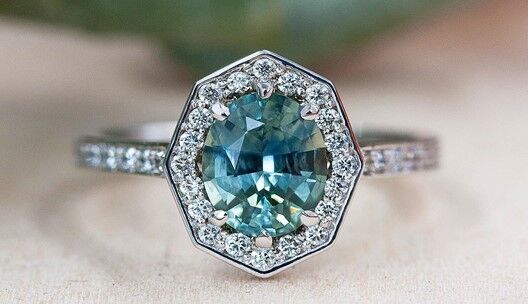 Start your search with Emily Chelsea in Philadelphia at her showroom located in Fishtown.  Emily works only with recycled diamonds – no newly minted diamonds.  The majority of the center stone diamonds that she works with are certified post-consumer recycled (not pre-consumer).  If Emily cannot ethically source a stone, she will not work with it. She works with a lot of clients to repurpose family diamonds.  She explains, "It's easy to remove stones from old settings and put them in a brand new one that is more in line with their style.  This is the most ethical option as well as the most sentimental and affordable."
Bario Neal, is located in the oldest jewelry district in the United States, Philadelphia's historic Jewelers Row. Bario Neal was started by Anna Bario and Page Neal in 2008 as a design-forward, women-owned and feminist company. This is an industry leader in ethical sourcing and progressive manufacturing.  They are known for design sensibility and high-quality, handcrafted work., using only Fairmined Gold and reclaimed metal.
With studios located in New York City and Berkeley, California, Melissa Joy Manning aims to educate and inspire people to invest in timeless jewelry that will help ensure a cleaner, healthier planet.  Her reverence to our natural world, and a zero-waste commitment, are the driving tenets behind the company's team of artisans and all of their designs.  The jewelry is made using recycled precious metals from a Green-Certified refiner, and "precious" materials such Leland Slag, a stony material created during the ore refining process in Michigan auto plants; raspberry nickel, leftover from shuttered US zipper factories; upcycled stones and fossils; and antique tribal charms.
Finally, think beyond the rings and consider more ways to bring some old family heirlooms to your wedding – a bit of bling for your gown, bouquet or hair design.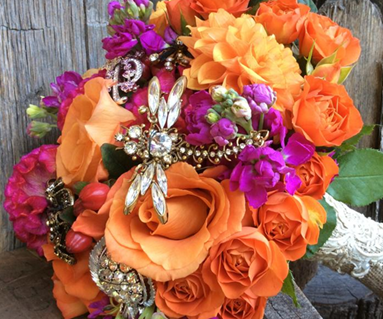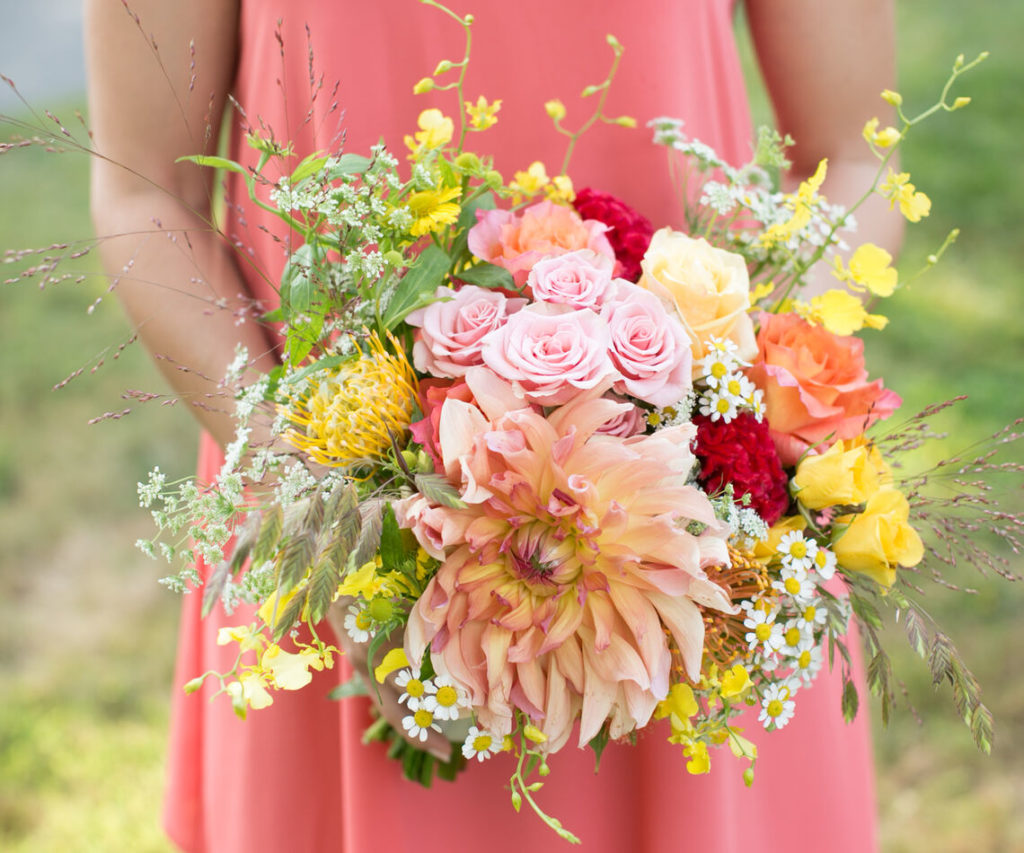 The Wedding Dress – thinking outside the salon
When choosing the eco-mindful dress to say "yes" to, the most obvious options are finding a pre-existing dress as opposed to a new dress made from scratch.  Choosing a vintage gown or one that's second-hand dress and "upcycling" it allows you to add your own personal flair and style.
If you are looking for more modern styles, check out websites such as "Once Wed" and "Still White".  These sites connect current brides with past brides offering dresses by BHLDN, Pronovias, Maggie Sottero, and Justin Alexander just to name a few.  An added bonus – you can save up to 80% versus buying the dress new.
If you are looking for something new, look for designs that are organic/sourced in environmentally and socially conscious ways, designs/designers that minimize packaging and reuse fabric offcuts, eco-silk, organic cotton and non-toxic dyes.  Choose local and handmade options with fabric sourced close to production sites to minimize the carbon footprint from shipping.  Reformation has been a carbon neutral brand since 2015; and they are moving towards becoming a 100% zero-waste brand.
The Terra Amore collection by Jessica Charles specializes in sustainable wedding gowns using cruelty-free materials.  Their dresses are made using hempsilk satin, hempsilk shantung, hempsilk charmeuse, hempcel, organic cottons, cotton silk, un-dyed, un-bleached, natural silks, recycled polyester satin from bottlecaps. Trimmings include natural freshwater pearls, vintage beads, recycled and remnant laces and more.  The company pledges 3% of all profits to the non-profit global charity Trees for the Future.
Wedding Invitations – things to address before addressing those envelopes
Are you looking for some eco-friendly options for your invitations?  We've got you covered!  Let's start with thinking outside the box, or rather, outside the envelope.  Consider sending your guests postcards.  Not only do post cards make lovely keepsakes for your guests but because they do not require envelopes, and you are reducing the amount of paper used as well as postage.
Another option is to go electronic.  When thinking about all of the invitations that get sent out during the wedding planning process—from engagement announcements, save the dates, bachelor/bachelorette parties—you can save a lot on both stamps  and paper by using websites such as Evite or Greenvelope to invite your guests.
Keeping with the e-theme, why not create a website using sites like The Knot and With Joy.  Did you know that you can create a wedding website in just a matter of minutes?  Even for those not-too-tech savvy, these options make it easier to create unique and professional wedding websites in very little time. Your guests can be more involved and RSVP right away.  They also have options for save the dates, wedding registries and RSVP tracking. With so many designs to choose from, you are sure to find something that matches your style.  When your guests open the invite, an envelope appears and out comes the invitation.  A virtual take on your invitation while reducing the carbon footprint.
If you've decided on the more traditional invitation, it's helpful to understand the difference between recycled versus reused paper.  You may not be aware there is big difference between using recycled paper and using reuse paper. In most cases, recycled paper is actually not so kind to the environment.  The process for removing ink from the paper produces a sludge-heavy metal waste that ends up in landfills.  The incineration process releases dangerous emissions, dioxins and hydrocarbons, and ash that eventually ends up in landfills as well.  Instead of recycled paper, look for re-used paper products.  Re-used paper is an eco-friendly alternative to bleached recycled paper.  This paper is made from 100% post-consumer waste produced entirely out of your own recycling bin.  By making use of paper that already exists, we also reduce the need for trees to be cut down.  Also consider paper made up of alternative fibers such as hemp or bamboo.  Materials like recovered newspaper or downstream paper make especially good eco-friendly invitations, as they require no extra processing to break it down for reconstituting.  Look for off-white or darker tones instead of bleached or colored options.
Plantable invites are embedded with flower or vegetable seeds.  This is a wonderful way to ensure the legacy of your love goes on well beyond your wedding day.   Try websites like Bloomin Paper.  Bloomin Paper is made from un-dyed, 100% post-consumer/post-industrial paper that is packed with your choice of flowers, vegetables, herbs, grass, and even trees  Your guests just soak the paper in water, place under a thin layer of soil, and watch the seed take root and sprout within a couple of days!
Flower Power – let the planet be the boss
Start with what you have! Why bring in decorations if they already exist at your site?  Choosing a JAM venue is already a sustainable choice.  One of the biggest ways to shrink the carbon footprint of your celebration is to get married outdoors and at a location where greenery and gardens abound.  Look for uniqueness, such as sharing the exchange of vows in front of the historic Anthony Wayne House porch or in the apple orchard at John James Audubon Center, or beneath the massive 250-year-old oak tree at Aldie Mansion.
Rent rather than purchase.  If your venue offers décor rentals, use them over purchasing new equipment that requires shipping and unpacking – it is a sustainable option, and takes the pressure off of you to coordinate and maintain the wedding décor
Talk with your florist about using in-season, local flowers from area greenhouses and farms.  Shopping local ensures fresh, quality stems at a reasonable price.  Fresh-cut flowers, grown abroad and shipped around the world, can be wasteful and have a huge impact on the environment.
Potted Plants can be easy to prepare yourself, and they can be used for centerpieces, ceremony, and gifted to guests at the end of the event.  Simple and inexpensive options include succulents, moss, fragrant herbs, ferns, and miniature roses.
Eco-friendly freeze-dried petals can be scattered down the table as a splash of color, or petals can be placed in water with or without a floating candle as a centerpiece. Incorporate fruit and vegetables like lemons, kale, gourds, artichokes and more in your floral arrangements and centerpieces.  Colors from the produce will beautifully pair with flowers in small vases for a unique and fragrant display. Branches create height in a centerpiece, and since branches grow back every year, they are a sustainable option.
For the bouquet, skip the florals and use evergreens, baby's breath, succulents or eucalyptus.  There is a strong trend for foliage bouquets, which are not only environmentally friendly but also significantly cheaper than flowers.
Dried flowers won't wilt, so they can sustain outdoor summer weddings, but also work well for fall weddings, because many fall botanicals look wonderful dried and/or can replace some blooms that are not seasonally available.  Dried flowers can be reused after the wedding as well.
A large contributor to waste in the floral design industry is the use of floral foam, which is a non-biodegradable foundation used to create arrangements like centerpieces.  Because many florists use floral foam when packaging and transporting arrangements to the venue, you can always talk with your florist about sustainable alternatives.  Tom Covello of JAM's floral division, Buttercup, says, "All of our bouquets and vase arrangements are hand-tied; meaning our professionally trained design team creates the bouquets without foam, holding them in our hand as we design, and then tying off the exposed stems to carry down the aisle or display in a vase".
A special note to our vegetarian and vegan friends
Since our founding back in the 1980s, JAM's wedding menus have catered to all manner of dietary preferences falling into the "vegetarian" category. We know that such plant-forward dietary choices promote better physical health for people, while also reducing the consumption of ethically and environmentally problematic animal products. The many versions of vegetarianism (from "just wants to avoid meat" to "strict vegan for ethical reasons") all share a philosophy that rejects the status of animals as mere commodities. We understand and support such choices, and we've crafted a number of menus—and many, many dishes—to accommodate them.
Figuring out how to get great flavor and texture into a meal, from start to finish, without relying on animal products, is both challenging and enjoyable. We use all kinds of resources in the process, including borrowing from many different world cuisines with their own rich vegetarian traditions—noodles and stir-fries from Asia, spices and curries from India, bright breads and dips from the Middle East, bean dishes from Latin America, and many others. A few of our most loved vegetable dishes have actually come from clients with cultural roots in other places. We love expanding our vegetarian horizons, and we're always open to new plant-forward ideas and recipes wherever we find them.
All of this means you can enjoy an entire JAM menu completely animal-free. Imagine nibbling on a dozen different entirely plant-based butlered hors d'oeuvres while enjoying a handmade signature cocktail. Then imagine sitting down to a first course of, say, cream of asparagus soup made without cream, followed by a flavorful entree like "Roasted Portobello Cassoulet" or "Beet Stack with Lentils, Horseradish & Lemon" or the ever-popular "Rosemary Quinoa Cake with Endives, Radish & Apple Butter"! And to finish it all off, imagine an impressive parade of vegan wedding cakes, pastries, and gelatos, all made from scratch by our talented pastry chefs. Every satisfying bite made by hand and served with heart—no animals involved!
Party Favors – never required but always appreciated
Look for plantable favors, such as potted saplings, herbs or succulents.  These can also be used as ceremony and reception decor earlier in the evening.
Alternatively, gifting your guests with something like a seed packet ("Love Grows Here"), fair trade coffee ("Love is Brewing"), or a honey jar ("Love is Sweet") sourced from a friend's family farm are bound to be well used by guests on a later date.
Consider preservative-free JAM by Hand party favors, like rosemary caramel popcorn bags or monogrammed cookies. Providing something sweet to take home is always a guest-favorite.
Skip the favor altogether, and make a charitable donation.  To put a creative spin on this traditional idea, you could have His & Hers donation options for guests to choose from;  or, you could leave a suggestion box and ask guests to decide where they would like your donation to go.
Your Sendoff – moving on from rice and birdseed
The Wedding Sendoff is age old tradition of getting guests involved to help celebrate the new couple's official wedding exit. This tradition dates back centuries and in many cultures they originally tossed grains at the new couple—the most popular being rice which is considered to symbolize prosperity, good fortune and fertility. Today most venues no longer allow the throwing of rice along with other items that could potentially be harmful to the venue and surrounding environment. You can still have a great wedding sendoff while being eco-friendly at the same time.   When choosing your sendoff think about your venue and their rules and/or any restrictions, your theme and color scheme along with packaging and clean up
Here are some festive and creative sustainable wedding sendoff Ideas.  For something they can toss, check out the options of biodegradable confetti, along with confetti that's dissolvable or even plantable. Herbs are beautiful, fragrant and often have symbolic meaning, such as rosemary for remembrance. Have them prepacked in recyclable bags ready for guests to throw and remember to supply a recycling bin. Another great way to present your sendoff is to set up a tossing bar or tossing wall using any of the items mentioned. Have a table set up and let guests decide which herbs they want to throw. They can scoop into a biodegradable bag or paper cone. These days, you can even shop online for biodegradable balloons. Wedding Wands made with recycled ribbon and topped with jingle bells are beautiful to wave when it's sendoff time!
If you're the type to venture beyond tradition, consider having your guests make a joyful departing noise in your honor. Scott Goldoor of Signature DJ's maintains the last dance doesn't have to mean the last song. Guests can surround you and sing out the lyrics to Don't Stop Believin' (by Journey), Time of My Life (by Bill Medley and Jennifer Warnes), I Gotta Feeling (by the Black Eyed Peas} or Good Riddance (by Green Day). Now, that's really going green!
The Getaway – a conclusion befitting any green wedding
For an eco-friendly getaway you want to choose something that won't generate a high carbon footprint. Consider opting out on a luxury limousine or classic car and going environmentally safe and sound with plenty of other transport modes. If you want the traditional getaway car, look into renting a hybrid, electric car or SUV. An electric motorcycle—with or without a side car—is also a consideration, How about a scooter? If you must use a motorized vehicle, try to choose something that can be repurposed for the benefit of your guests. For example, limos, buses, trolleys, shuttles. After your getaway photos and drop off, guests can then use this transportation to head back to the hotel..
When thinking about choosing your getaway options try to incorporate the big picture—your venue, location, season, and even your hobbies or interests. Are you having a rustic wedding at a barn, farm or vineyard? Use a rickshaw, hay wagon, horse-drawn carriage, or have a galloping getaway on horseback. Bikes, surrey bikes, or trikes are very fun eco-friendly getaway ideas. And if suits you, don't forget about a bicycle built for two.
Your Honeymoon – a lifestyle of greening begins for the newlyweds
It all starts with making smart choices before, during and after your honeymoon.  While you are visiting your chosen honeymoon destination your actions can bring purpose and benefit to the local community. There are many luxury hotels and resorts around the world that have environmentally friendly practices which include how they reduce, reuse and recycle. They also protect their local culture by preserving the surrounding historic buildings, parks and endangered species. You want to choose a resort that makes you happy but also makes it a priority to economically benefit the local community and protect the environment.
Begin by booking your travel through a reputable, eco-friendly tourism company. If possible, try to choose a local destination within a day's travel by bike, train, bus, fuel-efficient or electric car. Plane travel causes carbon emissions so if you must travel by plane try to book an empty leg flight or an efficient flight which holds more passengers. If you want to offset your travel carbon emissions, ask your guests in lieu of wedding favors, to contribute to a specific website that helps offset carbon emissions by planting trees. Plan eco-minded tours or service projects offered through your hotel and local tour companies that give back to that community. Shop and eat local.
For exotic destinations look at Six Senses Resorts. This luxury chain has properties in Asia, the South Pacific, Africa, the Middle East and Europe. Some examples of how they go green include no plastic straws and onsite organic gardens. Six Senses Laamu, Maldives donates water purification systems to give clean drinking water to their local residents. Check out their onsite eco center and see how they create glass-bottled drinking water. Learn how they protect their local marine life including sea turtles and manta rays, then go on a scuba diving excursion to see them up close. The marine team identifies and then protects their resident sea creatures.
Today many hotels are aspiring to be more sustainable. One of the ways they can distinguish themselves in this competitive market is by receiving a LEED Certification. This is an internationally recognized certificate and helps identify them for their eco-friendly efforts and environmental designs.   
 Some of these destinations include Bardessono Hotel in Napa Valley, CA. which has 940 rooftop solar panels supporting most of the hotel's electrical demand. Their sustainable practices also include a recycling and composting program and the use of organic linens and cleaning products. Guests have the unique opportunity to plant herbs at their onsite organic garden.
St. Lucia Hotels Anse Chastanet & Jade Mountain were built with sustainability in mind. They both use a water supply separate from the water used by the local city residents and only use bio-degradable cleaning supplies. To help conserve electricity, only natural light is used during the day at both resorts and hotel rooms have an open-air design eliminating the need for air conditioning. Foods are sourced locally as well as from their on-site farm. Guests are also encouraged to learn and participate in helping their sustainability goals through different activities such as tree planting or cleaning local beaches and reefs.
Fairmont Mayakoba Riviera Maya, Mexico received the PROFEPA Environmental Award. They are committed to land planning and preserving open spaces to protect their surrounding nature and wildlife. They also work diligently to protect their coral reefs from endangerment. Guests can book a diving tour and gather reef-building coral—and then replant it on the sea bottom to help continue growth of Mesoamerican Barrier Reef, the second-largest reef in the world.
Some Thoughts on the 50th Anniversary of EARTH DAY!
"Sustainability is the possibility that humans and other life flourish on the Earth forever." — John Ehrenfeld
Fifty years ago, twenty million Americans took to the streets to protest industrial pollution and environmental destruction. It was the first "Earth Day," a watershed event that gave ordinary citizens a chance to put their environmental concerns on the national agenda. Earth Day would eventually inspire the creation of the U.S. Environmental Protection Agency, along with new laws protecting the air, land, water, biodiversity, and health of Planet Earth.
Now, I myself wasn't there. On that day, the young Jeff Miller was probably goofing off in class and reading comic books under his desk! But the spirit of Earth Day did somehow set the tone for how we've built JAM Catering. Like many caterers, we bring great food and service to the table, and we put on a great party. But our business also supports the worthwhile missions of our many partner venues, from the preservation of open spaces by the Heritage Conservancy to the conservation efforts of the John J.  Audubon Center and Tyler Arboretum. Our newest venue, Bishop Farmstead, is a lovely bit of New Jersey with a beautifully restored barn and native grasslands filled with wildflowers, birds, and butterflies. It's a gorgeous place to have a wedding, and every wedding we do there supports efforts by the Pinelands Preservation Alliance to protect the region's unique natural lands and waterways.
Partnerships like these have generated millions of dollars to support worthwhile, sustainability-minded missions. It's just one of many things we do to make sure our business has a net positive environmental impact. We are grateful for that first Earth Day–and for all the Earth Days since and those to come–for pointing the way.
–Jeff Miller
At Waterloo Village, JAM supports the preservation of land and history, and we get to cultivate our own organic produce, eggs, and honey!